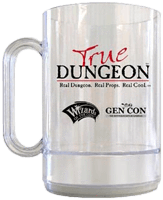 Trent Tokens
+1 Mug of Brawling - 2005b (Wooden)
This is a very rare item. It's a mug with a token encased in the bottom!
The mugs were originally sold with soft drinks in the True Dungeon Tavern called True Fantasy Tavern. The Tavern was discontinued, and no other mugs have been offered since. Not many exist, and for the ones that do exist, the owners usually don't want to part with them. There are 4 different Uncommon Promotional Mugs, and 1 Ultra Rare Volunteer Recognition Mug. I have a full set of the mugs in my personal collection, so this is an extra mug that I have available for purchase.
It's great for the collector starting their collection, or for someone missing this particular mug from their collection!
I love these so much that I decided to create my own with a token in the bottom, as an homage to the original mugs.  Click here to see my version of these mugs.
---

See photos for the actual mug. This mug is from 2005, so there are scuff marks and normal wear & tear. I chose to not clean the mug, so that it could be kept in it's original condition by the collector if they choose to do so. It's possible that whatever smudges you see in the photos could be cleaned, but that's up to you!
---

The wielder of this mug gets a bonus if inside a tavern.
This collectible token is contained within the bottom of an actual mug.
Though they have similar names, this token should not be confused with either Brawler's Mug (Common) or Brawler's Mug (Rare).
Text On Token: Wielder gets bonus if inside a tavern
Official True Dungeon Token Database Listing