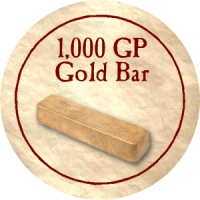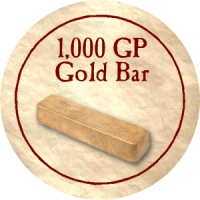 Trent Tokens
1,000 GP Gold Bar - Yearless (Gold)
$9.95
We currently have 1 in stock.
Attention: This token is for collector's only. It can not be turned in for an Exchange Item.
Equivalent to 1,000 GP
Piece or GP equivalent tokens may be hoarded as treasure, traded with other adventurers (big-time token collectors may be especially interested in GP), exchanged for NPC services outside of the adventure, used as currency to bid on items in the True Dungeon auction, or exchanged for transmuted tokens on http://www.truedungeon.com/transmuted . On very rare occasions, certain NPCs within the adventure may be influenced by the offering of riches.
In 2017, all Trade and Reserve tokens were redesigned with new high-rez artwork and chocolate-brown backs. Owners of the old, gold-backed versions could use their existing stock in transmuted recipes before December 1st, 2018. One-to-one exchanges could be done starting in September 2017. As of December 1st, 2018, the old versions are no longer exchangeable and may not be used in transmuted recipes.
Official True Dungeon Token Database Listing