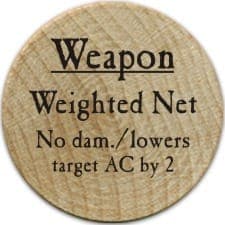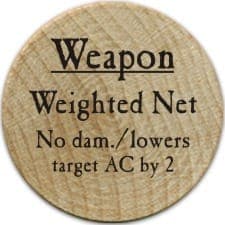 Trent Tokens
Weighted Net - 2006 (Wooden)
$2.50
We currently have 1 in stock.
If successfully thrown as a ranged attack, the victim's AC is penalized by -2 on the rounds following the initial hit. Only one Weighted Net can be used per human-sized monster. The effect is permanent, but there may be situations where a Weighted Net would be ineffective or a magical creature would be able to free itself. This would be specifically determined by the module itself.
Note: The weapon can't be used underwater as it can't effectively be thrown over a monster in that environment.
Text On Token: No dam./lowers target AC by 2
Official True Dungeon Token Database Listing