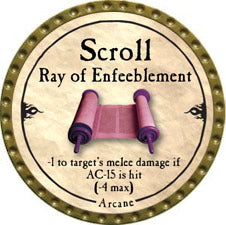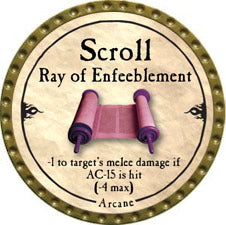 Trent Tokens
Scroll Ray of Enfeeblement - 2010 (Gold)
$0.68
We currently have 4 in stock.
If AC 15 is hit, melee damage dealt by the target suffers a -1 penalty.
Multiple castings of this spell on the same target stack up to four times, even if cast by different characters. This -4 limit takes precedence over the general -6 penalty to any given stat.
Text On Token: -1 to target's melee damage if AC-15 is hit (-4 max)
Official True Dungeon Token Database Listing