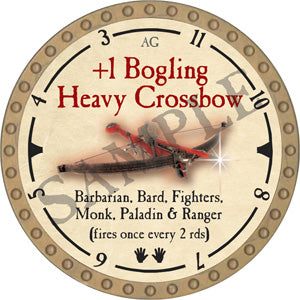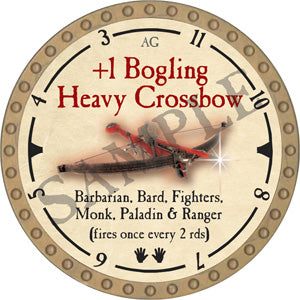 Trent Tokens
+1 Bogling Heavy Crossbow - 2019 (Gold)
$0.93
We currently have 8 in stock.
Like all +1 weapons, the DM will add +1 to the AC hit when using this weapon but the damage bonus has already been factored into the damage wheel.
A heavy crossbow takes one combat round to load after being fired. Therefore, a player using any type of heavy crossbow (mundane or magical) will only be able to attack every other round. Even if a player has multiple heavy crossbow tokens, the cumbersome nature of this weapon–changing from heavy crossbow to heavy crossbow–will still incur a combat round penalty. Thus, carrying multiple heavy crossbows will have no net benefit (besides being realistically unfeasible.) Heavy crossbows are the only weapons to have such a penalty. Heavy repeating crossbows do not have the reload time penalty and can be fired every round.
Text On Token: (fires once every 2 rounds)
Official True Dungeon Token Database Listing