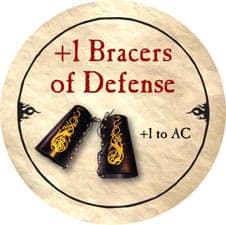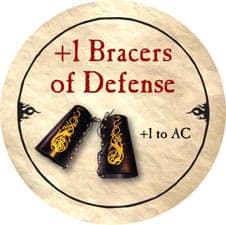 Trent Tokens
+1 Bracers of Defense - 2005b (Wooden)
$10.00
We currently have 3 in stock.
Adds +1 to AC
May be worn in conjunction with Gauntlets of Ogre Power because the Gauntlets are a hand slot item and bracers are a wrist slot item.
They cannot be worn with monk bracer weapons (e.g., Bracer of Smiting) even if the monk is only wearing one bracer weapon because non-weapon bracers take up both wrists. Note that monk bracer weapon tokens have a damage wheel and have singular names. Non-weapon bracer tokens do not have a damage wheel and have plural names.
Text On Token: +1 to AC
Official True Dungeon Token Database Listing