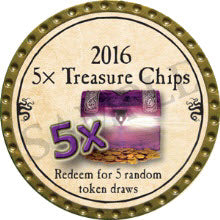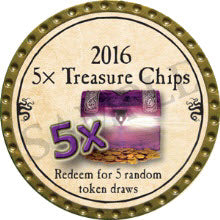 Consignment
5x Treasure Chips - 2016 (Gold) - C26
$15.00
We currently have 2 in stock.
Note: This is a Consignment Token (hence the C26), which means a True Dungeon adventurer is selling it through Trent Tokens. But as with all Trent Tokens products, once you've made your purchase, you'll receive a tracking number and your token will be promptly mailed to you!
---

Treasure Chips are rewarded for overcoming the challenge of certain rooms within an adventure. This token counts as five Treasure Chips and may be exchanged for five draws from a random treasure generator or possibly redeemed for True Dungeon swag.
Treasure Chips (of any denomination) may only be redeemed in person at official True Dungeon events–they may not be redeemed by mail. Only current-year tokens may be redeemed. E.g., a 2013 chip may not be redeemed in 2014.
Text On Token: Redeem at any Treasure Station for 5 random token draws or other fun
Official True Dungeon Token Database Listing