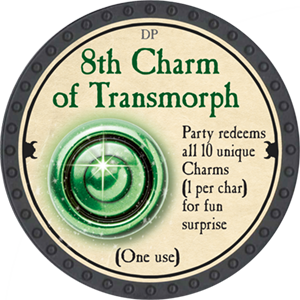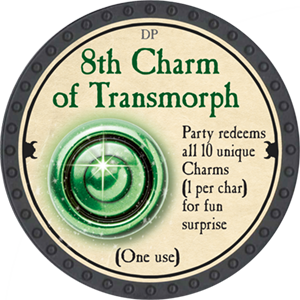 Trent Tokens
8th Charm of Transmorph - 2018 (Onyx)
$7.20
We currently have 1 in stock.
Created in the chaos of the Abyssal Swamp, these charms sometimes make their way into the Astral Plane via a Weirdwind. These charms harness the power of Chaos magic to visit upon its user a startling effect of a boonful nature.
To utilize this charm's power, all 10 members of your party must turn in one of these tokens. Each token turned in must be unique. I.e., the 1st, 2nd, 3rd, 4th, 5th, 6th, 7th, 8th, 9th, and 10th Charm of Transmorph must all be turned in. If your party has fewer than 10 players, your group may not utilize any Transmorph Charm power. In the unlikely event that your party has more than 10 players, the extra player has the option to turn in a duplicate Transmorph Charm if they wish to utilize a power. If the extra player chooses not to turn in a Transmorph Charm, that person's choice will not affect the 10 players who did turn one in. However, only the players who turn in a charm can select a Transmorph Charm power.
Unlike most charms, this token must be turned in to the coach prior to starting an adventure. Even though it's turned in, it still occupies one of your charm slots.
Each person who turns in a Transmorph Charm chooses one of the available effects. More than one player may select the same effect. Unless otherwise specified, the chosen effect lasts the whole game.
Each effect is accompanied by a slight change in appearance. These physical alterations in no way affect equipment slots or the ability to wear items.
The available effects and their associated physical changes will be made known after the charms are turned in.
Most of these charms have an onyx back, but there may be a few with gold backs.
Text On Token: Party redeems all 10 unique Charms (1 per char) for fun surprise.
(One use)
Official True Dungeon Token Database Listing