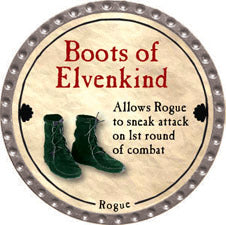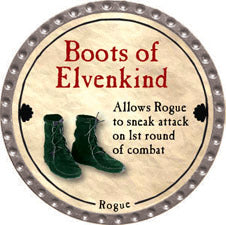 Consignment
Boots of Elvenkind - 2011 (Platinum) - C37
$4.99
We currently have 3 in stock.
Note: This is a Consignment Token (hence the C37), which means a True Dungeon adventurer is selling it through Trent Tokens. But as with all Trent Tokens products, once you've made your purchase, you'll receive a tracking number and your token will be promptly mailed to you!
---
These dark grey, soft boots dampen the noise normally created by the wearer when moving. Wearable only by rogues, they allow the wearer to perform a sneak attack without the normal one round delay. (The sneak attack attempt does not necessarily need to be done on the first round of combat.) Rogues without these boots must take one round to slowly move into position before attempting a sneak attack.
Text On Token: Allows Rogue to sneak attack on 1st round of combat
Official True Dungeon Token Database Listing