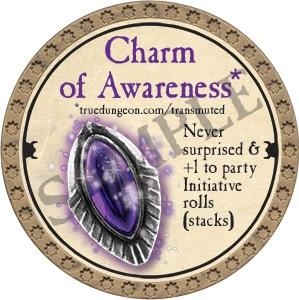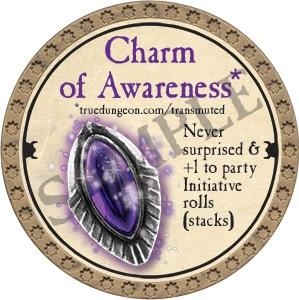 Consignment
Charm of Awareness - 2018 (Gold) - C007
$145.00
We currently have 1 in stock.
Note: This is a Consignment Token (hence the C007), which means a True Dungeon adventurer is selling it through Trent Tokens. But as with all Trent Tokens products, once you've made your purchase, you'll receive a tracking number and your token will be promptly mailed to you!
---

The user can never be surprised. In addition, it adds +1 to the party's initiative rolls. The initiative roll bonus is cumulative for each person who equips one of these charms. Thus the party's total initiative bonus could be increased by up to 10 points if all characters equipped one of these charms.
The maximum initiative bonus is capped at 10, even more than 10 Charms of Awareness have been equipped in the party. E.g., if there are 11 people in the party and everyone has equipped this charm, the party's initiative bonus would be +10.
Text On Token: Never surprised & +1 to party's Initiative rolls (stacks)
Official True Dungeon Token Database Listing