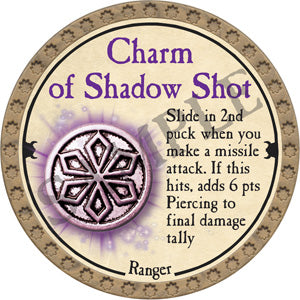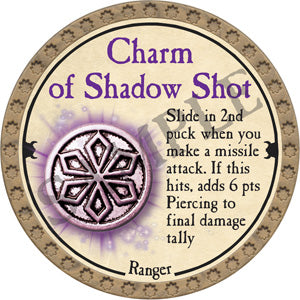 Consignment
Charm of Shadow Shot - 2018 (Gold) - C25
$59.50
We currently have 1 in stock.
Note: This is a Consignment Token (hence the C25), which means a True Dungeon adventurer is selling it through Trent Tokens. But as with all Trent Tokens products, once you've made your purchase, you'll receive a tracking number and your token will be promptly mailed to you!
---
When a ranger with this item equipped makes a missile attack, the player will place this token in the second puck and slide it at the same time the ranged weapon token is slid–much like how the player would perform a ranger's standard melee attack. If both the ranged weapon token and this token hit the target, this token deals +6 damage as Piercing to the target.
The +6 damage from this item is completely unaffected by any kind of damage modifier that's applied to the weapon. E.g., it doesn't get doubled if either the weapon's or charm's slide attack critically hit. Though the damage it deals is not subject to anything that modifies attack damage, the slide is affected by the ranger's Missile To Hit modifiers on the party card.
Note: Charm of Shadow Shot is not a weapon and its use is not considered a separate attack. Only the ranger's ranged weapon token slide is considered an attack. E.g., if a monster has Damage Resistance 6 vs. missile weapons, as long as the ranged weapon itself did at least 6 damage, the damage from this charm would be fully potent. Similarly, if there were such a thing as Ranged Retribution Damage (which there isn't), this item would not trigger it because it's not a second attack.
Text On Token: Slide in 2nd puck when you make a missile attack. If this hits, adds 6 pts Piercing damage to final damage tally
Official True Dungeon Token Database Listing