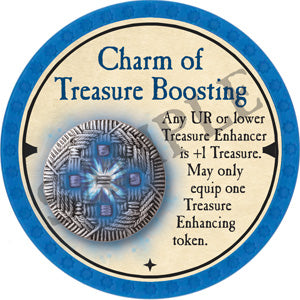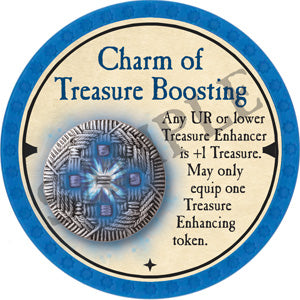 Trent Tokens
Charm of Treasure Boosting - 2019 (Light Blue)
$15.75
We currently have 1 in stock.
The wearer may increase the effect of an Ultra Rare or lower rarity Treasure-Enhancing token by +1. E.g., Charm of Treasure Boosting could be used with Crown of Treasure Finding because that's a Rare, but not with Charm of Avarice because that's a Legendary. No more than one Treasure-Enhancing token may be equipped by the wearer of this charm. (For the purpose of this token's restriction, Charm of Treasure Boosting does not count as a Treasure-Enhancing token.)
This Transmuted token required all of these items to construct:
Charm of the Faithful
1× Dwarven Steel
1× Minotaur Hide
1× Philosopher's Stone
plus any* FOUR (×4) of the following:

Devil Drake Claw
Giant Blood
Helkyrie Ichor
Troll Shaman Finger
any 2019 Monster Trophy
*duplicates are fine
Last Day to Transmute: December 1, 2020
Text On Token: Any UR or lower Treasure Enhancer is +1 Treasure. May only equip one Treasure Enhancing token.
Official True Dungeon Token Database Listing