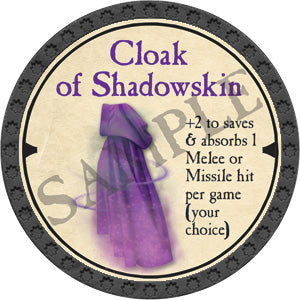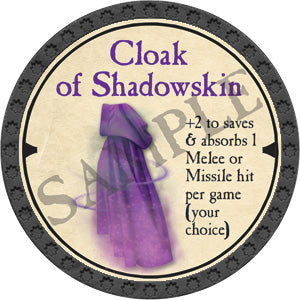 Trent Tokens
Cloak of Shadowskin - 2019 (Onyx)
$252.80
We currently have 1 in stock.
Wearer gains +2 to all saving throws. In addition, once per game the wearer may negate one melee or missile (physical ranged attack, not spells or wholly magical effects) attack which targeted the wearer. The wearer chooses when to invoke the attack-negation power.
Note: This token was originally printed in 2014 with a different power. Unfortunately, that version turned out to be unbalanced and required revision. You have two options regarding what you can do with your 2014 Cloak of Shadowskin token:
Starting at Origins 2019, if you have the 2014 version and wish to continue using Cloak of Shadowskin, you will be required to exchange the 2014 version for the 2019 version.
If you would prefer to replace the old token with a completely different UR token, you may turn your 2014 Cloak of Shadowskin token in for any 2018 or 2019 Ultra Rare.
No matter which exchange option you choose, you will receive a 10× Treasure Chips token as a thank you for your understanding during this rebalancing. The 2014 version of Cloak of Shadowskin will no longer be usable after Jan 31st, 2020. You must exchange your 2014 version for the 2019 version before that date.
Text On Token: +2 to saves & absorbs 1 Melee or Missile hit per game (your choice)
Official True Dungeon Token Database Listing