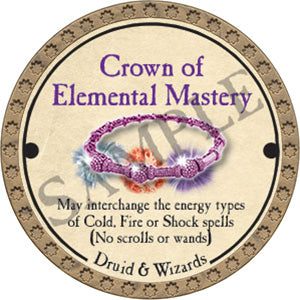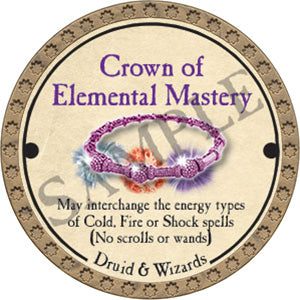 Trent Tokens
Crown of Elemental Mastery - 2017 (Gold)
$31.50
We currently have 1 in stock.
This headpiece allows the wearer to transform a damage-inflicting spell to a different elemental energy (e.g., changing a Fire attack to a Cold attack). Only spells that are memorized by the character (i.e., on the character card) are eligible. The only eligible energies are Cold, Fire, and Shock. This means a Cold spell could be transformed into Fire or Shock, Fire could be transformed into Cold or Shock, or Shock could be transformed into Cold or Fire. No other energy types (e.g., Acid, Darkrift, Force, Sacred, Sonic, etc.) can be altered with this item.
Theoretically, there is no limit to the number of times this item can be used, but eventually the character will run out of eligible spells.
Text On Token: May interchange the energy types of Cold, Fire, or Shock spells (No scrolls or wands)
Official True Dungeon Token Database Listing