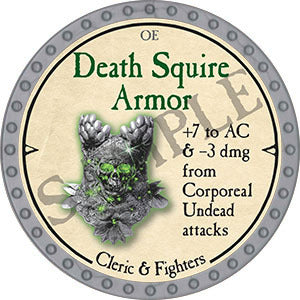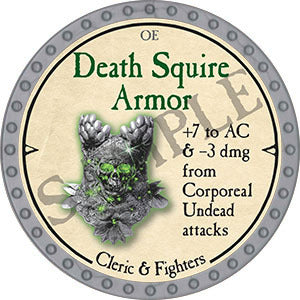 Consignment
Death Squire Armor - 2021 (Platinum) - C17
$1.25
We currently have 1 in stock.
Note: This is a Consignment Token (hence the C17), which means a True Dungeon adventurer is selling it through Trent Tokens. But as with all Trent Tokens products, once you've made your purchase, you'll receive a tracking number and your token will be promptly mailed to you!
---
Adds +7 to AC
HP damage inflicted on the wearer by Corporeal Undead is reduced by 3 points per attack/effect. This armor does not mitigate the side-effects of Undead Touch Attacks (e.g., Paralysis, Poison, curse, etc.), no matter what the corporeal status of the Undead attacker happens to be.
This item is not part of the Death Knight set.
Text On Token: +7 to AC & -3 dmg from Corporeal Undead attacks
Official True Dungeon Token Database Listing