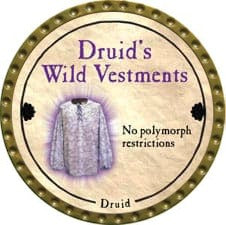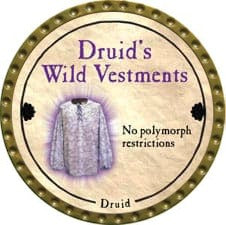 Trent Tokens
Druid's Wild Vestments - 2011 (Gold)
$67.50
We currently have 1 in stock.
Wearer may speak and cast spells from their character card while polymorphed, but not use scrolls or miscellaneous magic items
This shirt does not grant the ability to instantaneously quaff a potion. Therefore, if the character gains the animal form via drinking a potion, that character may not attack the same round the potion was consumed, unless the character was also able to consume the potion as a Free Action.
May be exchanged for Shirt of the Fae until December 1st, 2018
Text On Token: No polymorph restrictions
Official True Dungeon Token Database Listing