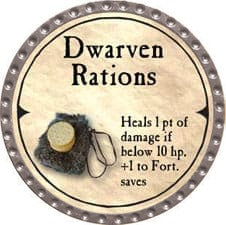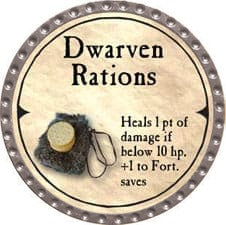 Trent Tokens
Dwarven Rations - 2007 (Platinum)
$0.86
We currently have 6 in stock.
When consumed, these Rations will heal the player 1 HP if their current HP total is below 10. In addition, the Rations increase the player's Fortitude saving throws by +1. The Fortitude effect lasts for the entire room and will persist (until the end of the room) even if the character's HP total rises above 9.
As long as the character's current HP level is 9 or less, the character may consume additional Dwarven Rations and heal 1 HP each time until their current HP total reaches 10. However, the Fortitude saving throw bonus is not cumulative.
If the character's current HP is 10 or higher, that character will gain no benefit from Dwarven Rations–not even the +1 Fortitude saving throw bonus.
Text On Token: Heals 1 pt of damage if below 10 hp, +1 to Fort saves
Official True Dungeon Token Database Listing