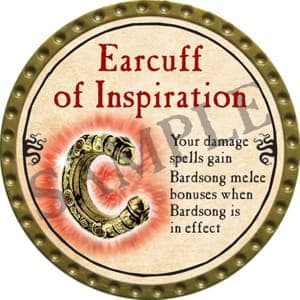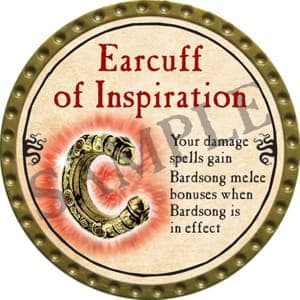 Consignment
Earcuff of Inspiration - 2016 (Gold) - OBSOLETE - C37
$2.99
We currently have 4 in stock.
Note: This is a Consignment Token (hence the C37), which means a True Dungeon adventurer is selling it through Trent Tokens. But as with all Trent Tokens products, once you've made your purchase, you'll receive a tracking number and your token will be promptly mailed to you!
---
This token can not be used in the dungeon, it's for collectors only.
This token has been rendered obsolete by a rule change. As of September, 2020, bardsong affects all ranged damage, which includes damage-inflicting spells–not scrolls, wands, or items.
Text On Token: Your damage spells gain Bardsong bonuses when Bardsong is in effect
Official True Dungeon Token Database Listing