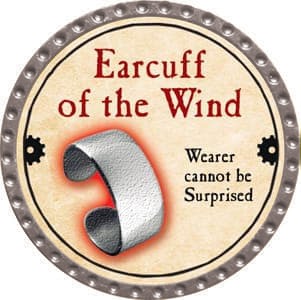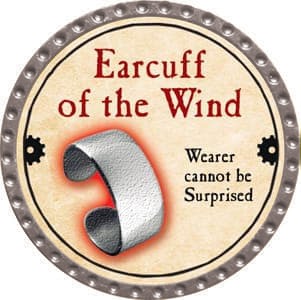 Consignment
Earcuff of the Wind - 2013 (Platinum) - C37
$16.99
We currently have 1 in stock.
Note: This is a Consignment Token (hence the C37), which means a True Dungeon adventurer is selling it through Trent Tokens. But as with all Trent Tokens products, once you've made your purchase, you'll receive a tracking number and your token will be promptly mailed to you!
---
The wearer cannot be surprised
This item is part of the Wind Set.
When all three Wind items are worn, the wearer gains the feather fall effect and invulnerability to non-magical missiles.
Amulet of the Wind
Cloak of the Wind
Earcuff of the Wind
Note: Boots of the [North/South/East/West] Wind are not part of the Wind set.
Feather Fall: Immune to falling dangers. The rate of descent is slowed, allowing the character an easy recovery from any fall. If a character falls from a great height (e.g., off a bridge or chasm), the character will automatically make it back to safety.
Text On Token: Wearer cannot be Surprised
Official True Dungeon Token Database Listing