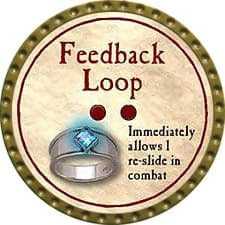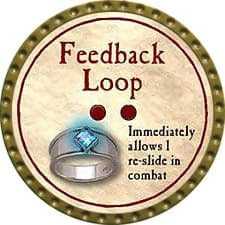 Consignment
Feedback Loop - 2007 (Gold) - C37
$8.99
We currently have 5 in stock.
Note: This is a Consignment Token (hence the C37), which means a True Dungeon adventurer is selling it through Trent Tokens. But as with all Trent Tokens products, once you've made your purchase, you'll receive a tracking number and your token will be promptly mailed to you!
---
This token allows the player to immediately (before another player performs an attack slide) re-slide once in a combat round. Any type of combat slide may be re-slid: melee, ranged, or spell. Any tokens displaced due to the original slide remain in their new (final) location and are not moved back to their places before the slide-only the wearer's combat slider is affected. For classes that attack with two attack sliders (ranger and monk), both sliders must be re-slid.
This ring must be equipped (worn) prior to activating one of its charges. In other words, this item takes up one of your ring slots.
Though it can be used only once per combat round, it can be used more than once per combat. E.g., it could be used on round one and again on round two. When this ring's power is activated, it expends one charge. After both charges have been expended, the ring becomes useless.
---
Our Super Hero of residence "Feedback" (a.k.a., Matthew Atherton) approached us to see if there was a way we could help with something that would generate proceeds for Learning Ally (formerly Recording for the Blind and Dyslexic) and the Make a Wish Foundation. Our response was the "Feedback Loop" Sold only at the Feedback autograph booth, online, and through special fan proxy, all the proceeds from the sales of this token went to Matthew's charities.
Text On Token: Immediately allows 1 re-slide in combat
Official True Dungeon Token Database Listing