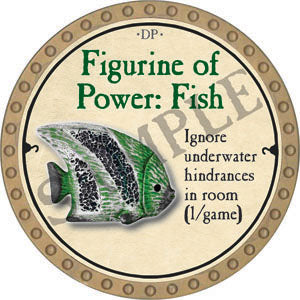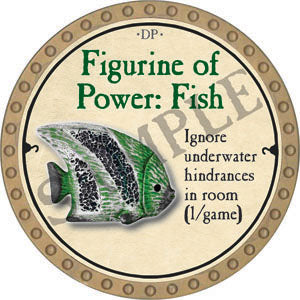 Trent Tokens
Figurine of Power: Fish - 2022 (Gold)
$1.98
We currently have 14 in stock.
Once activated, for the duration of the room the owner gains immunity to being Hindered while underwater.
This item does not confer the ability to breath while underwater.
This item's effect can only be activated once per adventure. Like all figurines, this item can be activated instantly, without requiring any kind of Action–Free or Standard.
Hindered: When underwater, creatures not native to water (including player characters) are very slow to propel themselves. In melee combat, only characters with Free Movement may attack the first round. In addition, without magical aid anything requiring movement or a Move Action is not possible during the first round of combat.
Text On Token: Ignore underwater hindrances in room
(1/game)
Official True Dungeon Token Database Listing