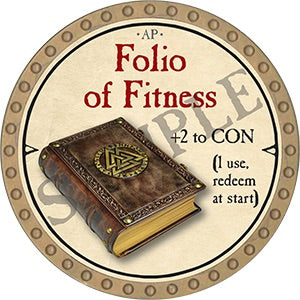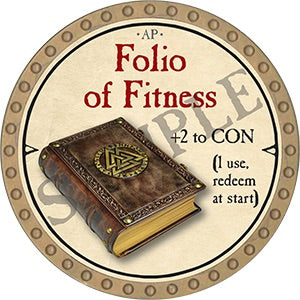 Consignment
Folio of Fitness - 2021 (Gold) - C007
$5.00
We currently have 7 in stock.
Note: This is a Consignment Token (hence the C007), which means a True Dungeon adventurer is selling it through Trent Tokens. But as with all Trent Tokens products, once you've made your purchase, you'll receive a tracking number and your token will be promptly mailed to you!
---
Adds +2 to Constitution (thus adding +1 to Fortitude saving throws and +1 to max HP per character level)

Folios are single use items that are turned in to the coach prior to starting an adventure. The effects are added to your overall stats. Only one folio may be used per person per adventure.
Text On Token: +2 to CON
(1 use, redeem at start)
Official True Dungeon Token Database Listing