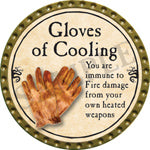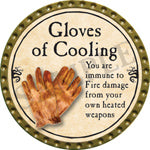 Trent Tokens
Gloves of Cooling - 2016 (Gold)
$0.32
We currently have 3 in stock.
Wearer is immune to Fire damage inflicted on the wearer caused by the wearer's weapon becoming overheated. It does not mitigate damage from any other source, not even other sources of Fire damage.
E.g., if you fell into a giant forge while wearing these gloves, this item would have no affect how much damage you took from intense heat. However, if you were to wield a red-hot weapon that had just been removed from a forge, you would not take damage from the heated weapon.
These gloves only affect the weapon(s) you're currently wielding in combat. They do not allow you to manipulate a hot item unless it is a weapon token currently being used by you in combat.
Text On Token: You are immune to Fire damage from your own heated weapons
Official True Dungeon Token Database Listing