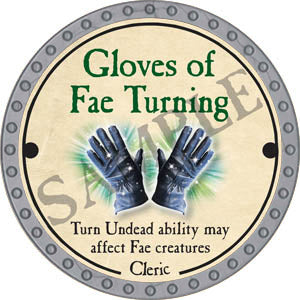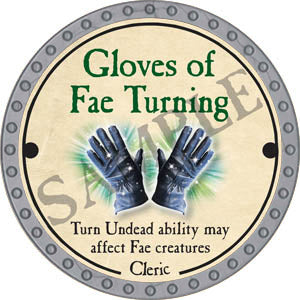 Trent Tokens
Gloves of Fae Turning - 2017 (Platinum)
$1.35
We currently have 2 in stock.
Clerics wearing these gloves may use their turn undead ability on Fae creatures. The skill check still applies and functions the same way–a bonus for success, no penalty for failure. These gloves may be used in conjunction with a special holy symbol and the bonus afforded functions the same way. (E.g., a Greater Holy Symbol of Pelor would double the damage or a Commander's Holy Symbol would deal +2 damage as long as the Fae was corporeal).
This item does not grant any additional uses of turn undead (Fae) beyond the standard 1/room, but if the cleric had some other way to use turn undead (Fae) more than once per room, they could do so.
Wearing these gloves does not prevent the cleric from using turn undead on Undead.
If both Fae and Undead are in the same room, the turn ability would affect both types. These gloves do not "double-dip" on the damage if by chance the creature is both Undead and Fae.
Text On Token: Turn Undead ability may affect Fae creatures.
Official True Dungeon Token Database Listing