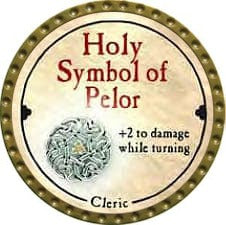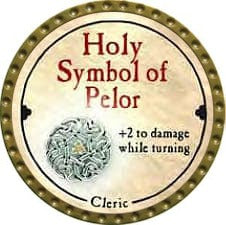 Consignment
Holy Symbol of Pelor - 2008 (Gold) - C37
$6.49
We currently have 5 in stock.
Note: This is a Consignment Token (hence the C37), which means a True Dungeon adventurer is selling it through Trent Tokens. But as with all Trent Tokens products, once you've made your purchase, you'll receive a tracking number and your token will be promptly mailed to you!
---
Adds +2 to the damage normally caused when a cleric turns undead.
Your cleric character may not benefit from more than one holy symbol per adventure-even if you, as a player, own more than one. (The gods don't care for competition.) When applicable, you may use the same holy symbol multiple times. However, neither stacking nor swapping holy symbols inside the adventure is permitted.
This is a permanent item and is not consumed on use.
Text On Token: +2 to damage while turning
Official True Dungeon Token Database Listing