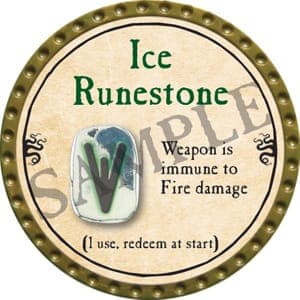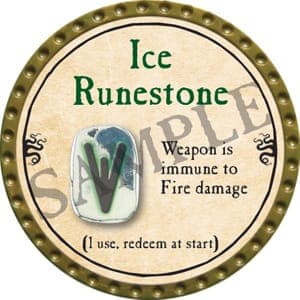 Trent Tokens
Ice Runestone - 2016 (Gold)
$0.42
We currently have 1 in stock.
Your weapons (not necessarily you) are immune to being damaged by Fire. The weapons themselves are not harmed by attacking extremely hot targets and weapons protected by this runestone do not deal Fire damage to their wielder. However, it does not reduce the damage the wielder might take from being attacked by Fire, nor from being near very hot items/creatures–unless the damage was inflicted via the weapon you're wielding.
Runestones are single use items that are turned in to the coach prior to starting an adventure. The effects will be added to your overall stats. One runestone may be used per adventure.
Text On Token: Weapon is immune to Fire damage (1 use, redeem at start)
Official True Dungeon Token Database Listing