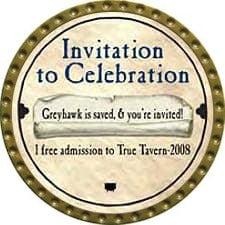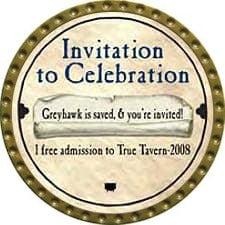 Trent Tokens
Invitation to Celebration - 2008 (Gold)
$0.23
We currently have 16 in stock.
Given to all players on the completion of their adventure in 2008, this token could be turned in for free admission to the True Dungeon Tavern that year.
Note: Though this token's title was printed in blue and it bears a cauldron symbol, it's not actually a Combo token because it did not require any tokens to be turned in.
Text On Token: 1 free admission to True Tavern-2008
Official True Dungeon Token Database Listing