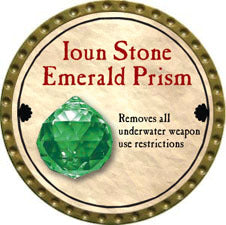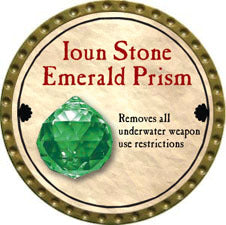 Consignment
Ioun Stone Emerald Prism - 2011 (Gold) - C37
$9.99
We currently have 5 in stock.
Note: This is a Consignment Token (hence the C37), which means a True Dungeon adventurer is selling it through Trent Tokens. But as with all Trent Tokens products, once you've made your purchase, you'll receive a tracking number and your token will be promptly mailed to you!
---
Allows the use of slashing, blunt, ranged, or thrown weapons while underwater. It does not remove the Hindered penalty.
Hindered: When underwater, creatures not native to water (including player characters) are very slow to propel themselves. In melee combat, only characters wearing Boots of Free Action (or a similar magical effect) may attack the first round. In addition, without magical aid anything requiring movement or a Move Action is not possible during the first round of combat.
Text On Token: Removes all underwater weapon use restrictions
Official True Dungeon Token Database Listing