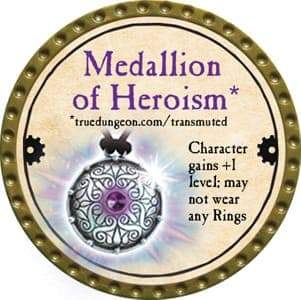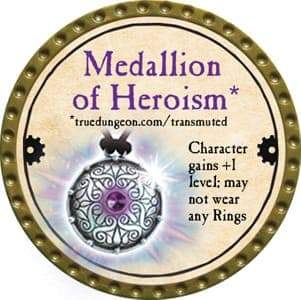 Consignment
Medallion of Heroism - 2013 (Gold) - C29
$95.00 $115.00
We currently have 1 in stock.
Note: This is a Consignment Token (hence the C29), which means a True Dungeon adventurer is selling it through Trent Tokens. But as with all Trent Tokens products, once you've made your purchase, you'll receive a tracking number and your token will be promptly mailed to you!
---
Adds +1 level to character but the wearer may not equip a ring (or rings)
Items or effects which grant additional ring slots (e.g., Gloves of Glory or Hand of Glory) do not bypass this item's ring prohibition.
Note: +level effects do not stack
Text On Token: Character gains +1 level; may not wear any Rings
Official True Dungeon Token Database Listing