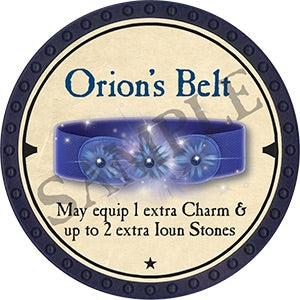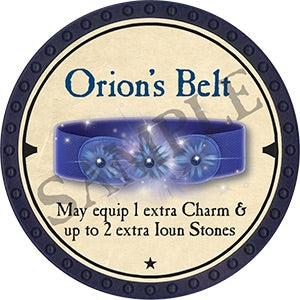 Consignment
Orion's Belt - 2019 (Blue) - C53
$325.00
We currently have 1 in stock.
Note: This is a Consignment Token (hence the C53), which means a True Dungeon adventurer is selling it through Trent Tokens. But as with all Trent Tokens products, once you've made your purchase, you'll receive a tracking number and your token will be promptly mailed to you!
---
Wearer may equip 1 additional Charm and/or up to 2 additional Ioun Stones
The effects from this item stack with other supplemental slot items affecting Charms and/or Ioun Stones.
This Transmuted token required all of these items to construct:
Relic Recipe Fragment 1
Relic Recipe Fragment 2
Relic Recipe Fragment 3
Relic Recipe Fragment 4
Relic Recipe Fragment 5
Relic Recipe Fragment 6
Blight Bud*
Fiend Talon*
Lamia Scale*
Slayer Tentacle*
Stalker Blood*
Swamp Hag Venom*
3× Alchemist's Ink
3× Alchemist's Parchment
1× Aragonite
3× Darkwood Plank
3× Dwarven Steel
2× Elven Bismuth
2× Enchanter's Munition
2× Minotaur Hide
3× Mystic Silk
2× Oil of Enchantment
3× Philosopher's Stone
5,000 GP in Reserve Bars
*Relic Recipe Fragments may not be substituted for Monster Trophies in this recipe.
Last Day to Transmute: December 1, 2020
Text On Token: May equip 1 extra Charm & up to 2 extra Ioun Stones
Official True Dungeon Token Database Listing