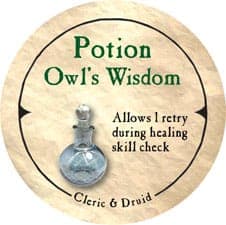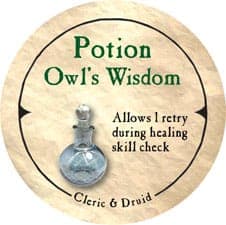 Trent Tokens
Potion Owl's Wisdom - 2005b (Wooden)
$5.00
We currently have 4 in stock.
Drinking this potion allows a cleric or druid to immediately re-try a failed healing skill check. It cannot be used to re-try a failed skill check if the spell does not heal HP damage.
Note: Only one Potion Owl's Wisdom may be consumed per room per person.
Text On Token: Allows 1 retry during healing skill check
Official True Dungeon Token Database Listing