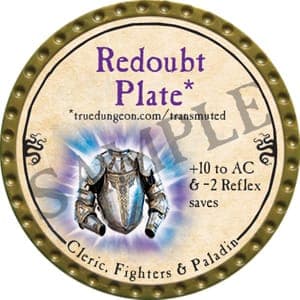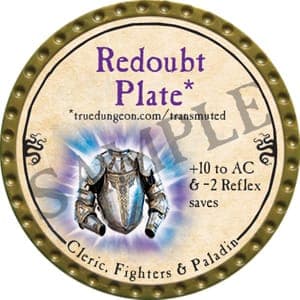 Trent Tokens
Redoubt Plate - 2016 (Gold)
$63.00
We currently have 1 in stock.
Adds +10 to AC and suffer -2 to Reflex saving throws.
This item is part of the Redoubt Set.
When at least three items are worn, the character gains +2 to Strength (thus adding +1 To Hit in melee and +1 Damage with melee and thrown weapons) and +5 to max HP. There is no additional set bonus for equipping more than three Redoubt items.
Blessed Redoubt Mail
Blessed Redoubt Plate
Blessed Redoubt Shield
Byr's Anointed Redoubt Plate
Giln's Redoubt Shield
Redoubt Helm
Redoubt Mail
Redoubt Plate
Redoubt Shield
Sill's Anointed Redoubt Mail
Text on Token: +10 to AC & -2 Reflex saves
Official True Dungeon Token Database Listing