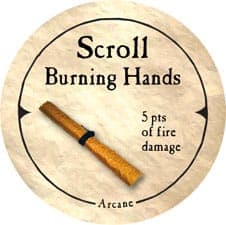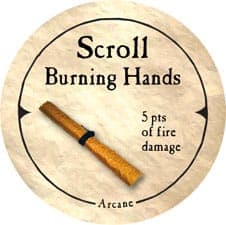 Trent Tokens
Scroll Burning Hands - 2005b (Wooden)
$2.50
We currently have 6 in stock.
Deals 5 damage as Fire to all monsters, no To Hit slide is required, no saving throw is allowed to mitigate damage.
Note 1: The earlier (wooden) version of this token dealt 6 damage. The damage dealt during combat will be what is indicated on the token turned in.
Note 2: In times past, this scroll only affected 2 monsters. No matter what token medium (woody or chippy) is turned in, this scroll will now deal damage to all monsters in the room.
Text On Token: 5 pts of fire damage
Official True Dungeon Token Database Listing