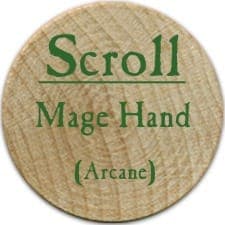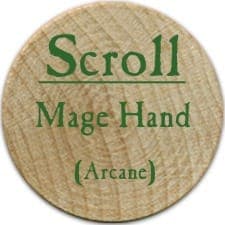 Trent Tokens
Scroll Mage Hand - 2006 (Wooden)
$5.00
We currently have 8 in stock.
Allows the caster to move a small object inside one room. The object must be in sight, and must not weight more than 5 pounds. The controlled object can be slowly levitated and flown around the room to any location within sight in the room.
Note: This spell allows only very simple, marionette-like manipulation of the object. E.g., a key could be grabbed from a table and brought to the caster. However, it would not allow the caster to magically insert the key into a keyhole nor turn the key.
Official True Dungeon Token Database Listing