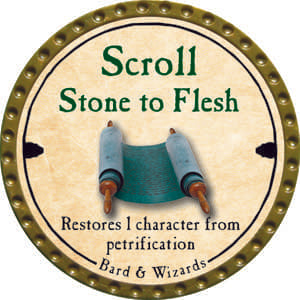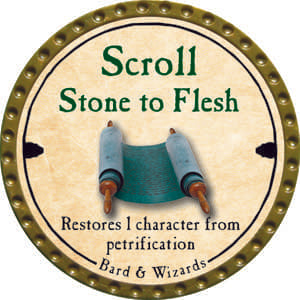 Trent Tokens
Scroll Stone to Flesh - 2006 (Wooden)
$5.00
We currently have 11 in stock.
Restores a petrified character back into flesh. Characters rejuvenated in by this spell return to life in the same condition they were at the time of the petrification. No saving throw is needed.
Characters restored to flesh are free to act the same round they are restored.
Note: This spell cannot be used on stone that was not formerly a living being.
Petrified: The victim has been turned to stone and is considered unconscious. The victim is not technically dead, but unless Stone to Flesh is cast on the victim, s/he may as well be. Petrified victims may be carried further into the dungeon in hopes of removing their "stoned" state later on.
Text On Token: Restores 1 character from petrification
Official True Dungeon Token Database Listing