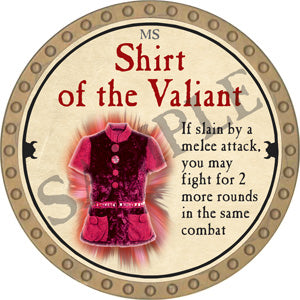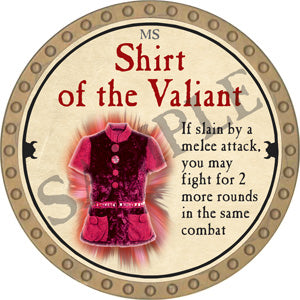 Trent Tokens
Shirt of the Valiant - 2018 (Gold)
$0.99
We currently have 6 in stock.
If the wearer is slain by a melee attack, the wearer may fight (act in combat, either by physically attacking, casting a spell, or supporting other allies) for up to 2 more rounds in the same combat.
This shirt does not prevent the character's eventual death–it only delays death by up to two rounds. During the two "bonus" rounds, the wearer cannot be healed. Any further HP damage will instantly kill the wearer. Status effects (Hold, Paralysis, etc.) during the "bonus" rounds affect the wearer the way they normally would, so unless they also deal HP damage, they won't instantly kill.
Once the wearer is dead-dead and the "bonus" rounds are over, life-restoring effects may be used–but not before.
This item has no effect if the wearer is slain by a missile, spell, trap, puzzle, Push, nor anything other than a melee attack.
Erratum: This effect can only be used once per room
Text On Token: If slain by a melee attack, you may fight for 2 more rounds in the same combat
Official True Dungeon Token Database Listing