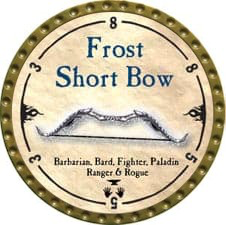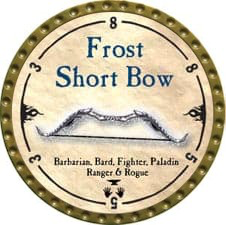 Consignment
Frost Short Bow - 2010 (Gold) - C74
$2.49
We currently have 3 in stock.
Note: This is a Consignment Token (hence the C74), which means a True Dungeon adventurer is selling it through Trent Tokens. But as with all Trent Tokens products, once you've made your purchase, you'll receive a tracking number and your token will be promptly mailed to you!
---

The arrows fired from this weapon become extremely frigid on a successful hit.
The damage wheel includes 2 points of Cold damage which will be deducted if the victim of the attack is immune to Cold damage.
This Combo token required all of these items to construct:
3× Darkwood Plank
3× Elven Shortbow
1× Ring of the Wood Worker
1× Potion Yew Bark Extract
Official True Dungeon Token Database Listing