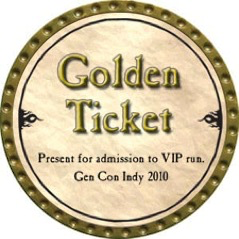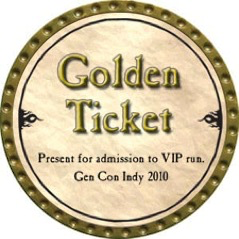 Consignment
Golden Ticket - 2010 (Gold) - C26
$200.00
We currently have 1 in stock.
Note: This is a Consignment Token (hence the C26), which means a True Dungeon adventurer is selling it through Trent Tokens. But as with all Trent Tokens products, once you've made your purchase, you'll receive a tracking number and your token will be promptly mailed to you!
---

Every year, a very few number of Golden Ticket tokens are randomly inserted into token packs sold prior to Gen Con. The lucky recipient of a Golden Ticket is invited on a special dungeon run at that year's Gen Con. There are many surprises for those fortunate players which may include über token bags, unique rooms in the adventure, or special challenges. Fortunately, no one has been turned into a blueberry… so far!
Text On Token: www.truedungeon.com/ticket Congratulations!
Official True Dungeon Token Database Listing