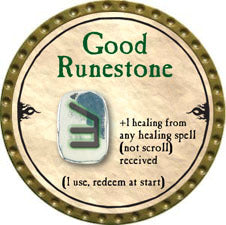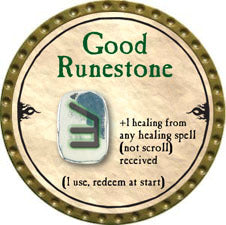 Consignment
Good Runestone - 2010 (Gold) - C37
$1.29
We currently have 12 in stock.
Note: This is a Consignment Token (hence the C37), which means a True Dungeon adventurer is selling it through Trent Tokens. But as with all Trent Tokens products, once you've made your purchase, you'll receive a tracking number and your token will be promptly mailed to you!
---
Adds +1 HP healed from any healing spell received if the spell was cast by a character but not from scrolls or items.
Note: The bonus healing is applied when healing spells are cast upon the character utilizing this runestone. When healer classes utilize this runestone, healing spells they cast upon others are not boosted.
Runestones are single use items that are turned in to the coach prior to starting an adventure. The effects will be added to your overall stats. One runestone may be used per adventure.
Text On Token: +1 healing from any healing spell (not scroll) received (1 use, redeem at start)
Official True Dungeon Token Database Listing