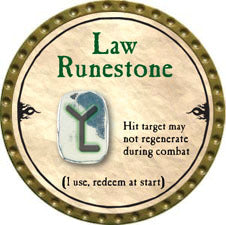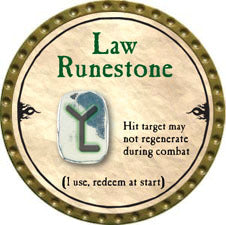 Trent Tokens
Law Runestone - 2010 (Gold)
$0.99
We currently have 1 in stock.
If this runestone is active (turned in prior to beginning the adventure), a successful melee attack by the affected character against a monster will negate any ability–natural or magical–of the monster to regenerate. The effect on the monster lasts for the entire combat after a successful attack.
Runestones are single use items that are turned in to the coach prior to starting an adventure. The effects will be added to your overall stats. One runestone may be used per adventure.
Text On Token: Hit target may not regenerate during combat (1 use, redeem at start)
Official True Dungeon Token Database Listing