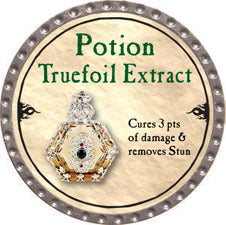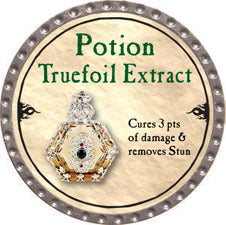 Trent Tokens
Potion Truefoil Extract - 2010 (Platinum)
$3.38
We currently have 5 in stock.
Heals 3 HP of damage and removes the effects of stun
Note: If used solely to remove stun, this potion must be administered by another (able-bodied) character.
Stunned: Victim drops whatever is in its hands; cannot attack, cast spells, or play bardsong; and suffers a -2 AC penalty.
Text On Token: Cures 3 pts of damage & removes Stun
Official True Dungeon Token Database Listing