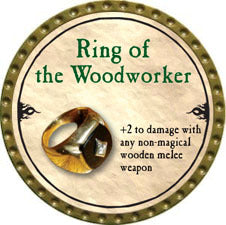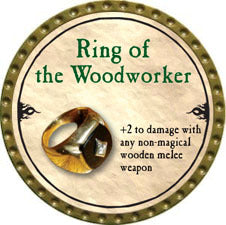 Trent Tokens
Ring of the Woodworker - 2010 (Gold)
$1.29
We currently have 1 in stock.
Adds +2 Damage when using non-magical wooden melee weapons
Legend tells of man who had an enormous affinity for the natural magic contained within the structure of all forms of wood. He was able to craft such wondrous tools, weapons, and other items from this raw material better than any other. It was the weapons (staves and clubs) crafted by his skill that are long sought after. It is said that they are so crafted as to release the natural energy within the wood to increase the damage beyond a normal attack. In the twilight of his days he is said to have collaborated with a mysterious man of many forms of magic to craft a band of gold, ebony, and diamond imbued with the power of augmenting any wooden weapon to increase its damage effect. This ring is the result of that partnership.
Text On Token: +2 to damage with any non-magical wooden melee weapon
Official True Dungeon Token Database Listing