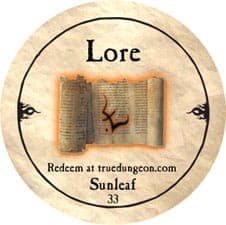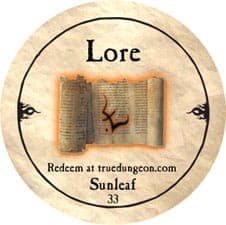 Consignment
Sunleaf (Lore) - 2010 (Copper) - C26
$0.95
We currently have 1 in stock.
Note: This is a Consignment Token (hence the C26), which means a True Dungeon adventurer is selling it through Trent Tokens. But as with all Trent Tokens products, once you've made your purchase, you'll receive a tracking number and your token will be promptly mailed to you!
---
Note: These tokens have no in game effect, they are collector items.
In 2010, one lore token was included in each pack of 10 tokens. Lore tokens encouraged collectors to log on to True Dungeon and discover special hints about that year's adventure as well as the formulas for that year's Combo tokens.
Each Lore token had a copper back to distinguish it from the standard gold-backed tokens in a pack and was numbered 1-40. This token was #33.
Official True Dungeon Token Database Listing
---
Info from 2010 True Dungeon Newsletter:
These contain a special code that links you to a JPEG image, short audio message or short video that will be a piece of useful information for the 2010 event. You can also ask your Rumor sources about what they know about this particular piece of Lore. You might be surprised at the answer! Lore tokens are always true, but since it is a piece of Lore the usefulness of the information may not always be immediate. A JPEG image, for instance, might be a torn piece of parchment that can be combined with a few other Lore token clues to fashion a complete clue to the event. Of course, some Lore is more cryptic than others, as some require you to decipher a code -- or even visit a real world location to obtain the final piece of the puzzle. You may even have to travel to the Astral Plane to get a final clue!

These tokens are meant to foster some fun during the off-season and to encourage communication between old TD friends. We could tell you more about the fun to be had as there is much more planned, but we think it is best just for you to discover this all on your own. I hope you all have fun with them!